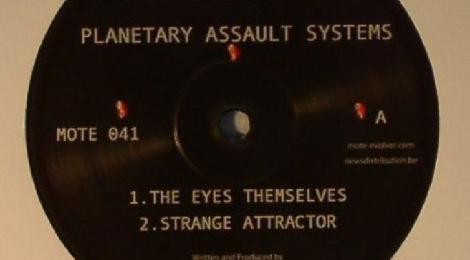 Pe o piață aflată într-o continuă mișcare prinde bine câteodată o lansare care să nu inoveze dar care să se ridice la cele mai înalte standarde de calitate. 
În acest registru se înscrie cea mai recentă lansare a lui Luke Slater sub cel mai de succes pseudonim al său, Planetary Asault Systems, The Eyes Themselves. 
Lansarea cuprinde trei piese Arc, Strange Attractor și The Eyes Themselves, compuse într-o temă mai cosmică decât cele cu care am fost obișnuiți, dar fără să reprezinte ceva nouă din partea autorului. Toate sunt pline de energia vie specifică.
PAS este într-un loc ciudat al existenței sale. După ani buni în care a lansat cel puțin două discuri pe an, de ceva vreme bună activitatea s-a redus la jumătate, suficientă doar cât să mențină interesul pentru ceva nou al fanilor activat.
Luke Slater este foarte aproape de clubul 50 (n. 1968) al producătorilor de muzică electronică, iar de obicei această promovare e marcată de o schimbare puternică în sunetul produs. Mai rămâne să vedem doar cât de radicală va fi aceasta, cât de curând.